I recently had the privilege of talking with Brendan Worsley of Worsley Woodworking who has taken the craft of cabinet making and bespoke furniture making to new levels of creativity. Brendan is based in Suffolk near Ipswich … Worsley Woodworking on facebook
Have you always had a passion for working with wood or did you have a career change into cabinet making ?
My father's side of the family are all engineers, at 13 he helped me turn a wooden pen on his metal working lathe, that is when I got the bug.
What is your background previous to becoming a bespoke cabinet maker ?
After the pen incident I saved up my money from my Saturday job waiting tables at a local cafe. The owners husband was a furniture maker – He encouraged me to do some more woodturning.  I borrowed some money from my father and bought a small lathe and a set of 5 chisels and gouges. I had no real idea what I was doing but I screwed a small piece of wood to the lathe nonetheless. Some time later, along with some real blood, sweat and tears a small bowl emerged. This first attempt become the tip bowl at the local cafe.
After this I took to it pretty well. I started displaying and selling my work in the cafe window – Whilst still at school the time came for a mandatory two week work experience placement, I applied to a local joinery company. It was after this that I decided to keep the woodworking as a hobby and go into automotive engineering at university. But by the end of the first term at university I had realised my mistake, quit, then searched for a joinery/furniture making apprenticeship instead.
You completed a formal cabinet making apprenticeship, was this an invaluable time of learning from old hands or were you only allowed to make the tea at first  ?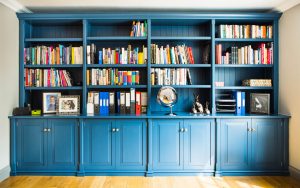 A bit of both … It is surprising how much you can learn from just watching people on jobs you are not even working on you get first pick of the rubbish jobs though, until the next apprentice starts.
What are the positives and negatives of working with corporate clients v private clients ?
I prefer private clients as it's a privilege to be invited to work in someone's home, the work becomes much more personal.
Most people's experience of working with wood is from their school days, making a mug tree or a teapot stand … How was your experience at school in the workshop and do you have any of the things you made ?
By the time I took my GCSE's I was a fairly good woodturner so I decided that my woodwork exam piece was going to be a tool box for my woodturning tools – I still use it today. Hopefully I could make a better job of it now but it is a nice reminder of the trigger of my career.
Covid 19 has affected businesses everywhere – how have you coped and what has kept you motivated ?
Fortunately I had quite a lot of work lined up, but naturally there have been some hold ups. Not everyone is happy with the idea of work being carried out on their home at the moment which is understandable. I have used the quieter time to good effect, I have been learning to draw better and working on a few showpiece designs.
Ethical sourcing is now a really important issue for everyone – do you source your materials locally and is it possible to do it all sustainably ?
Absolutely, most of the timber I use is English.  Very occasionally I will use American Walnut or Cherry but I tend to shy away from anything more exotic as we have such fantastic timber on our doorstep, why would we want something else?
Do you have a favourite wood to work with ?
I've not got a favourite, I really enjoy using different timbers as they all have particular strengths and weaknesses which can lend themselves to certain roles, plus they all smell different.
And which are the trickiest or most frustrating parts of your job to do when making furniture ?
It is always glueing up a complex job. As soon as the glue is on, joints start to swell and there is a limited amount of time to get the object in place and cramped up before the glue starts to set.
You are based in the Old Carpenters Workshop … Do you know the history of the building and the carpenters there before you ?
The building was put up in the second world war and was the last checkpoint before RAF Wattisham. After the war a local farmer bought the property and it became the farm carpentry workshop. I was born in 1987 just before the hurricane …
During the storm several trees came down on this farm and they were planked up and used to make various things. However another woodworker who lived in the village bought an elm tree from the farmer and had always planned to make something from it. Well he never did – When I moved in to this workshop he approached me about making a sideboard out of the elm. Lovely job.
You are happy to work in all sorts of styles – Arts & Crafts, Shaker, Art Deco/Nouveau, Chippendale etc – do you enjoy working in a variety of styles or do you have ones that you much prefer ?
I have always enjoyed not having a personal style because I want to reflect my clients taste (as most of my work is commission based) but as time goes on I would like to work on my own style. I have always had a bit of a hankering for art nouveau and even visited Barcelona just to absorb Gaudi's work and take a lot of photos. I have a few rough designs together which I must make an attempt of.
You've talked about your commercial work but do you still find time for personal projects and experimenting with new techniques or designs or is it a bit like a busman's holiday to start working on grand projects for you home etc ?
I had always planned spending Saturdays experimenting and working on my skills but this rarely ever happened. Some jobs require you to learn a very specific skill and you do so before signing the job off.
A lot of learning happens on the job but a formal set time for playing around is still a wonderful ideal that I aspire to – I feel it is very important to push myself forward as a craftsman . My home is always the last to get worked on, but recently I have made and installed my own kitchen which is great – I definitely will be experimenting further with my own home and contemporary furniture.
Brendan thanks for giving us an insight into bespoke woodworking and we really appreciate the opportunity to learn more about how you got into you craft … Thanks again.
Brenda's work can be viewed on his website worsleywoodworking.co.uk